The plate R100 loom woven stocking has a flat shape. However, due to be programmed stitch, it has developed into shapes foot (knit to fit = weaving in shape). The rate of appropriate length, narrower plane at the ankle, the calf wider, narrower at the knee and thigh wide again. At the end of the thicker portion stockings called the cuff, which is a double layer above a turned and stitched so. To obtain a closed shape stockings, it is necessary to stitch along and then create a real seam (modern imitations FF-s, eg Nylonessa Eva Chic, Cervin Esprit have sewn seam seamless stocking). As the cuff is also sewn, it is necessary to leave the hole technology (key hole) through which you can close the stitching process. Yes seamed stocking is pre-formed shape that is adapted to the shape of the legs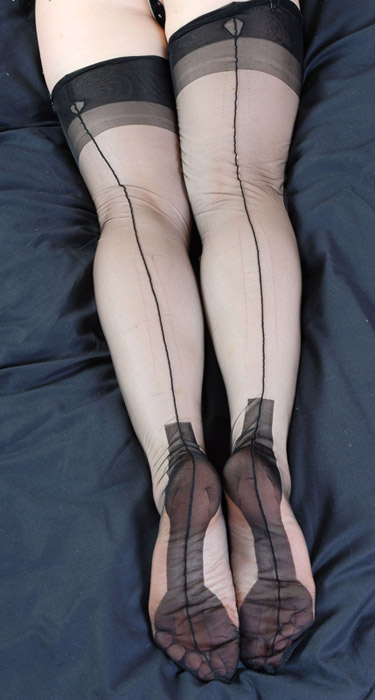 (Fully Fashioned), hence the name of FF. This stocking is not ready to wear and is quite transparent with a slight white tint. It still must be boiled in a cauldron of paint to achieve the desired color.
Even the white color requires coloring. If we add the dye bath lanolin, it takes on an added glow of stocking and wonderful, velvety touch. This process has introduced an excellent company Alberts, the stockings were called Velvetized. But that's already colored stockings are wrinkled and not very shapely. It is necessary to stabilize the heat and pressure, corresponding to compression. This takes place in an airtight bell (machine Heliot) in which hot steam and pressure give the final shape of the aluminum leg stretched stocking standard. Now just remove the finished product from the aluminum legs, to make a very careful quality control and choose two, if identical stockings and pack them into a box. At this stage of production, and everything is going well, there is "only" 30% of discards. And that is basically all the technological. Where are the greatest quality problems? In the weaving process, the manual stapling and packaging. Hand packing causes 50% of all lesions.
It is worth noting that the production of FF stockings need: specialized loom plate R100 Reading, sewing machines stitching, dyeing system with probes and control color in coloring, Heliot machine and a set of aluminum patterns for six sizes of feet, quality control machinery CETM size. This is a pretty major undertaking. In addition, the theoretical efficiency of 15 pairs per hour, the machine does not belong to the economic hits. In practice, reached about 50-60% of theory. Thus, inter alia, the final price comes true FF stockings.